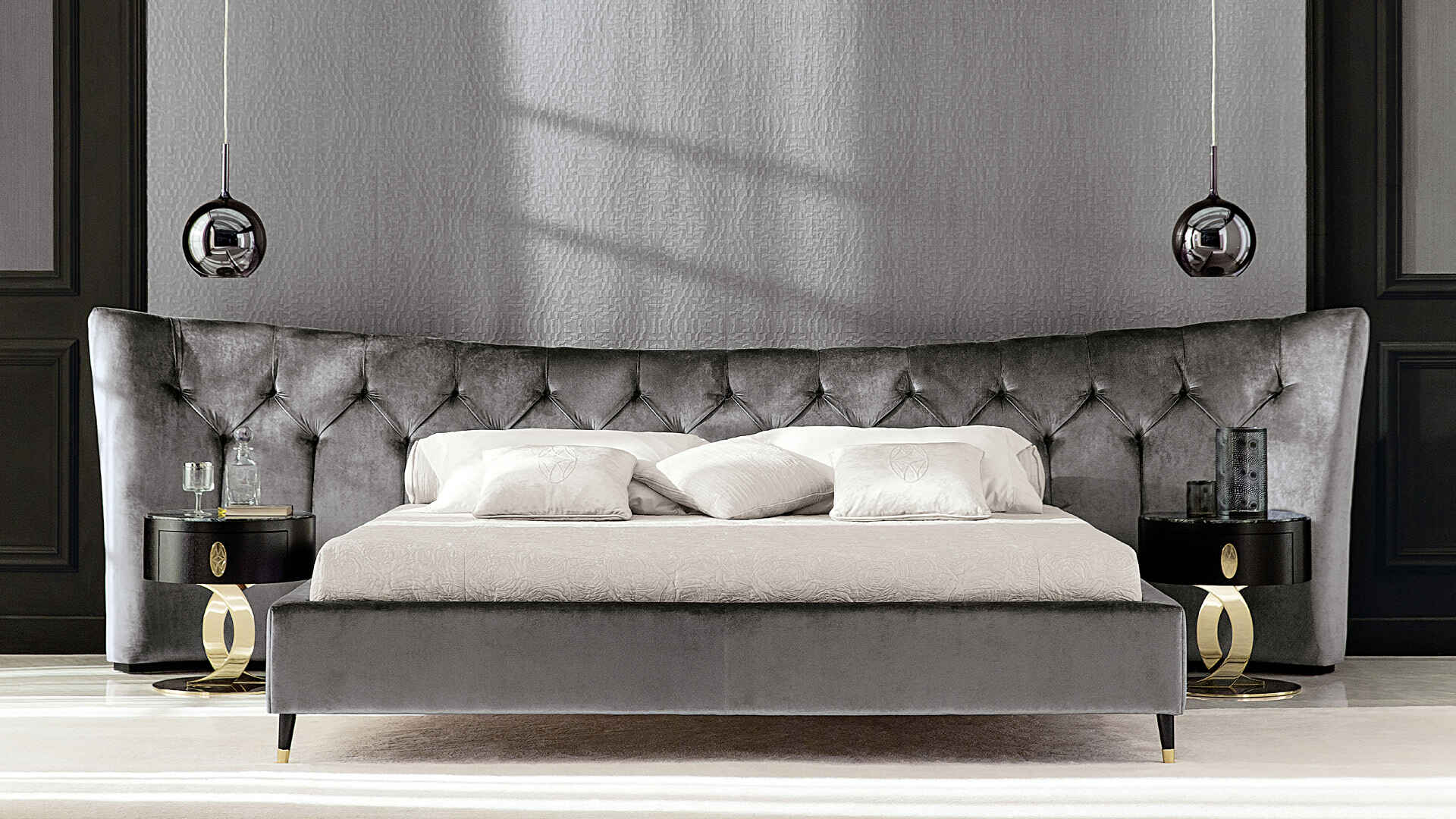 28 Sep

Contemporary beds: the features that make your comfort zone unique
Contemporary beds: the features that make your comfort zone unique
In contemporary interior design, planning the bedroom layout is pivotal to ensure the highest degree of privacy, comfort and well-being. And of course, contemporary beds play a crucial role in meeting these expectations both in terms of looks and performance.
Sleek design, ultimate comfort, top-quality materials and finishes, appealing lines and volumes are just some of the features that made these pieces of furniture so unique and sought-after. 
Generally speaking, contemporary beds – just like every piece of contemporary furniture – showcase visually appealing aesthetics coupled and an overall feather-light design, with smooth lines and surfaces in a broad color palette, from natural dark or wood essences to glossy white. 
From a creative point of view, the sky is the limit when it comes to contemporary interior design, a style that allows visuals and functionality to run on parallel routes to create a highly performing and uber-comfortable setting in every room of the house. 
Contemporary style furniture is not modern furniture
A contemporary bed is, almost by definition, the living, vibrating soul of the contemporary bedroom: a space characterized by the simplicity and airy settings that are so typical of the minimalist approach to home décor. In this case, the ultimate goal is not to highlight a single item in a room, but rather the architectural and decorative elements that make a space unique and original, decluttered and pleasant to the sight. 
As far as the bed goes, it has to be remembered that this piece of furniture has historically represented so much more than a tool to sleep on. It has also always been a symbol of craftsmanship, comfort and luxury. This philosophy hasn't changed and is still taken into consideration in contemporary interior design – or maybe more so than ever. 
In the past, beds were traditionally made out of various materials, although wood was the most popular choice because of its innate durability and adaptability. The material was often carved into elaborate bed frames and decorative headboards, and the bedroom as a whole was furnished with works of art that displayed the craftsmanship of the artisans who had made them.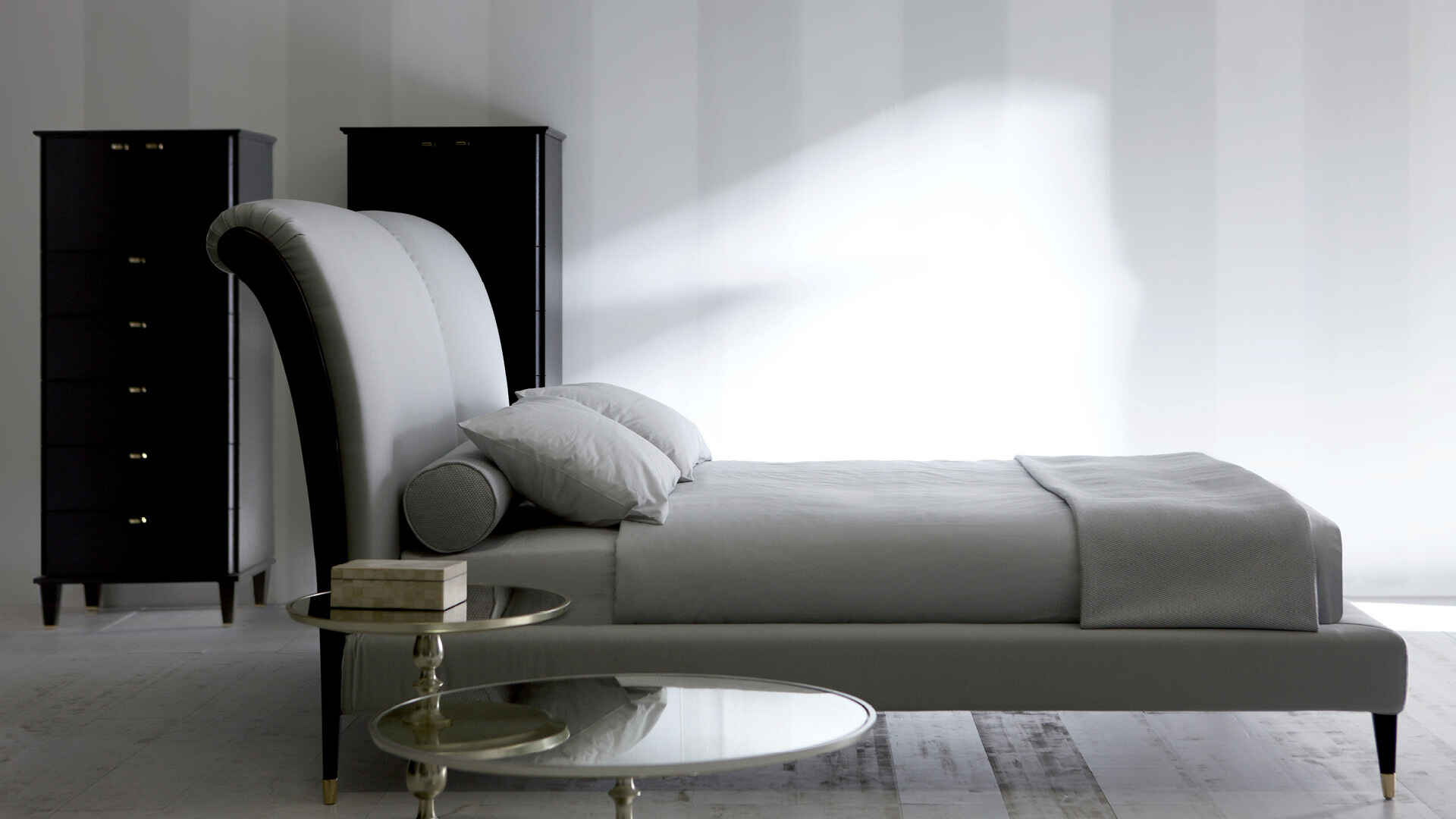 Fabrics also played an essential role in their design. The bedroom as a whole was given a royal makeover with the help of ornate curtains and canopies fashioned from expensive textiles. These fabric enhancements ensconced the bed in a regal sense of richness and solitude.
Leather's luxury looks and feel also inspired designers to incorporate it into beds. It's a nice touch that may make a room feel even more refined. Bed frames with built-in drawers and storage spaces efficiently make the most of limited floor areas in sleeping quarters. These helpful alterations made it possible to combine form and function without sacrificing either, and turn a spot to rest into a multipurpose setting. 
This excursus is not random but necessary: although specific styles and materials of beds have changed over time, the influence of these older designs may still be seen in contemporary beds. Current bed-makers frequently take cues from the past, blending classic features with cutting-edge materials and finishes.
Sleek silhouettes, clean design, a less-is-more approach and ingenious combination of form and function characterize contemporary beds. The prevalence of contemporary platform beds reflects the minimalistic and upscale aesthetic of today's design-savvy consumers. These cutting-edge designs are great for individuals who want to get a good night's sleep in style, whether on a king-size bed, which provides adequate space for a genuinely sumptuous sleep experience, or on a designer bed, which takes the bedroom into a realm of luxury.
As far as materials go, high-quality woods like oak and walnut are still frequently employed. In addition, more modern flair can be added to the bedroom by using metal frames with a sleek finish. Leather beds are the epitome of opulence, while those upholstered in linen or velvet add a touch of class. This piece of furniture can be tailored to an individual's taste by selecting from a wide range of textures and colors thanks to the many available materials.
More than anything else, today's aesthetics highly value the bed's quality details, from unconventional frame designs and geometric patterns to elaborate stitching decorations and upholstered headboards. Furthermore, contemporary beds can be manufactured in many sizes to accommodate different sleepers and bedroom layouts. 
Overall, contemporary beds synthesize aesthetics, luxury, and technological advancement. These beds provide a wide range of alternatives for creating a bedroom that is visually appealing and conducive to a restful sleep experience through their modern designs, choice of materials, attention to detail, and consideration of the impact of technology on sleep quality.
Opera Contemporary's luxury beds for a flawless comfort experience
Opera Contemporary creates and develops contemporary design spaces that combine a delightful mixture of top-quality materials and fine details with the highest level of craftsmanship. The company's productive excellence and constant research on styling, fabrics and materials ensures the skills and expertise necessary to conceptualize and manufacture contemporary interior design settings featuring an elegant and vivid uniqueness.
When it comes to designing and furnishing the most intimate space of the house, the bedroom, Opera Contemporary provides a wide range of solutions that highlight the company's sheer excellence in creating state-of-the-art environments.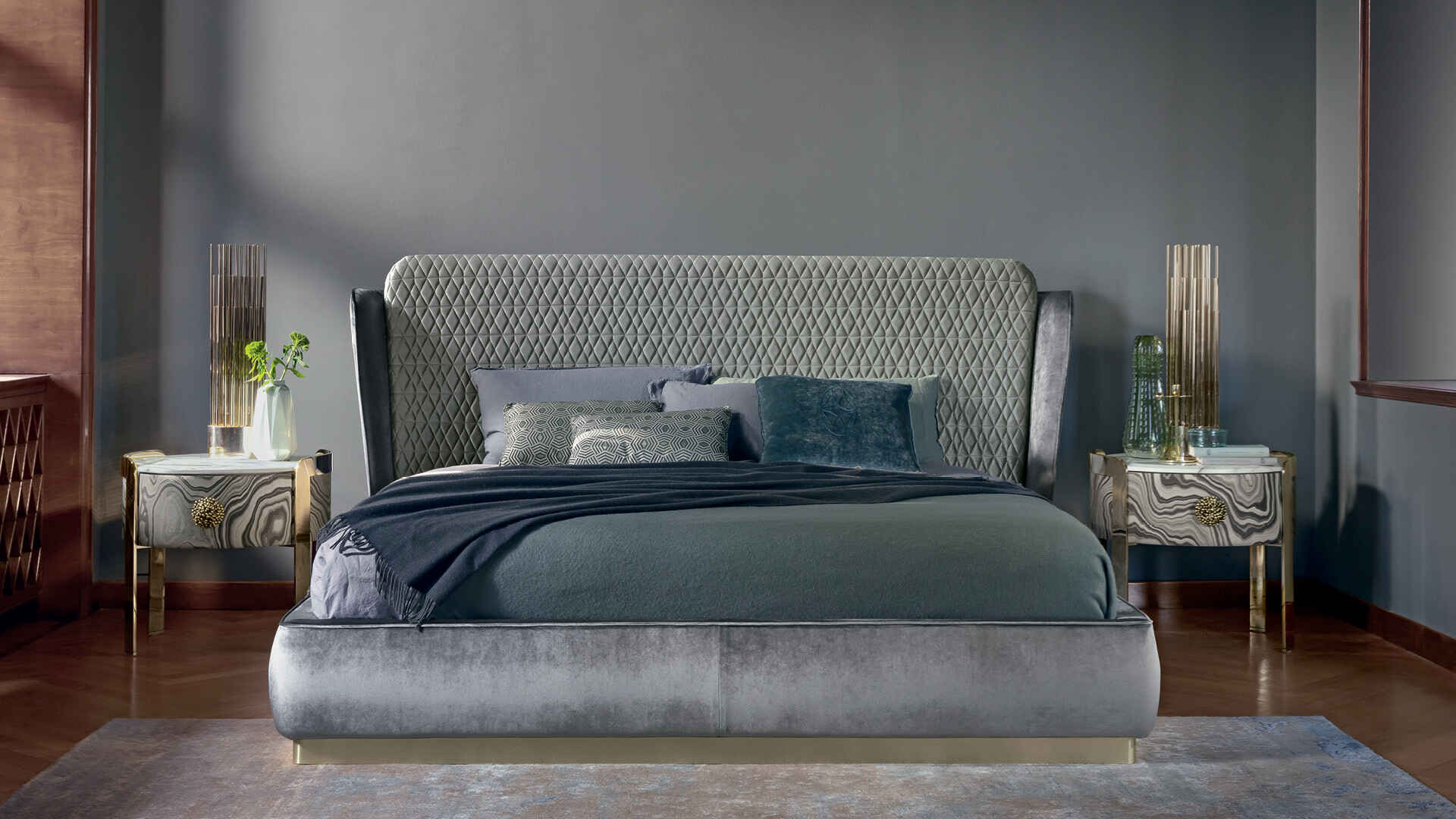 The Opera Contemporary design beds collection sums up the brand's philosophy of creativity, quality and stylistic innovation. Among the many solutions available in Opera Contemporary's catalog, Janet stands out for the elegance it exudes. This upholstered contemporary bed features tailored details that enrich the design's purposeful simplicity: its headboard, embellished with diamond quilting that creates a precious contrast with the rounded corners, adds to the overall material texture of the piece, customizable in detail to be fully integrated into the room's design and atmosphere.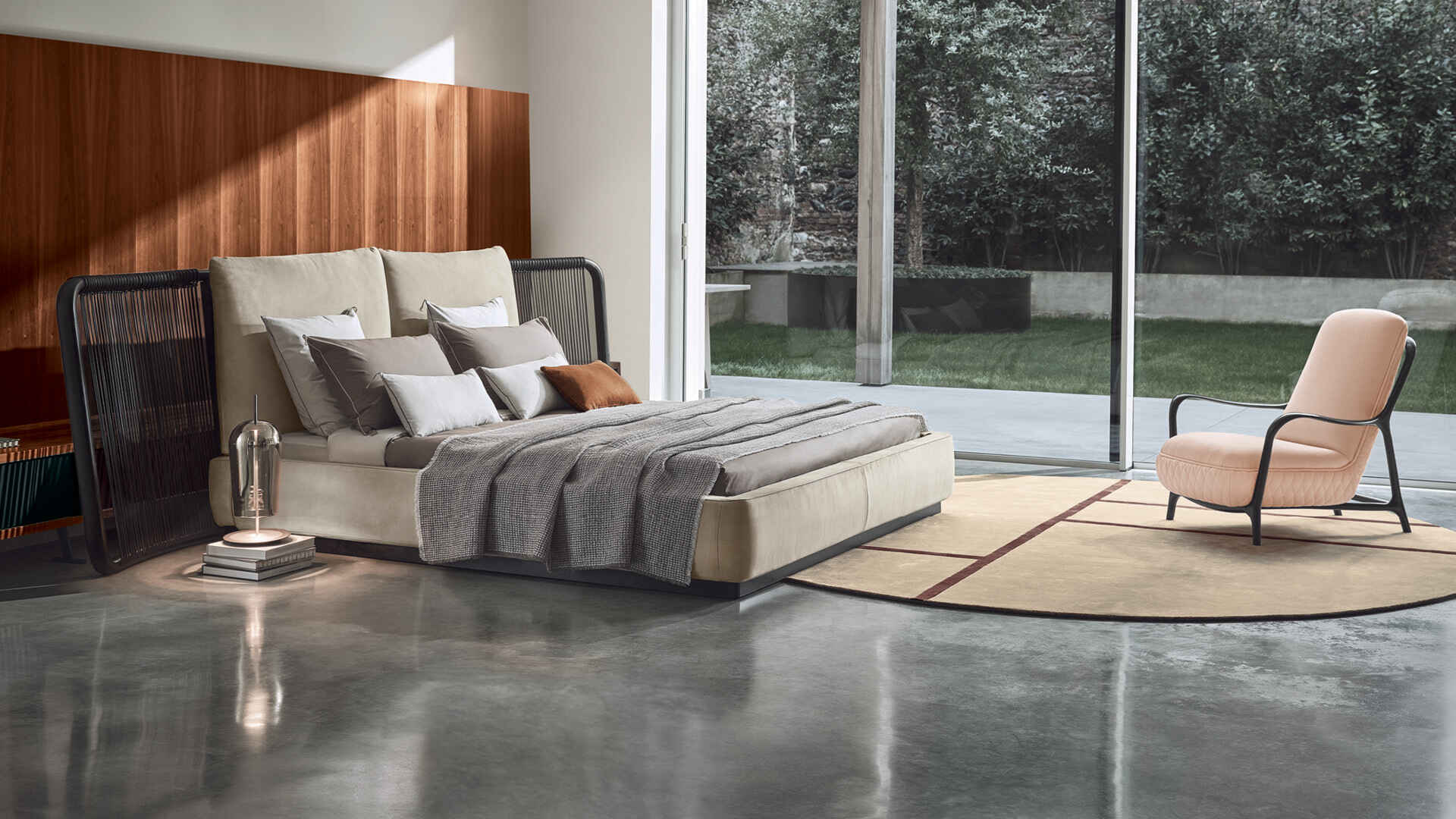 Alba, on the other hand, is a fully customizable contemporary bed with a striking double headboard made of contrasting materials. While the soft padding on the seat and back cushions are great for lounging, the rest of the piece showcases Opera Contemporary's skill as woodworkers with a sophisticated design and fine finishes.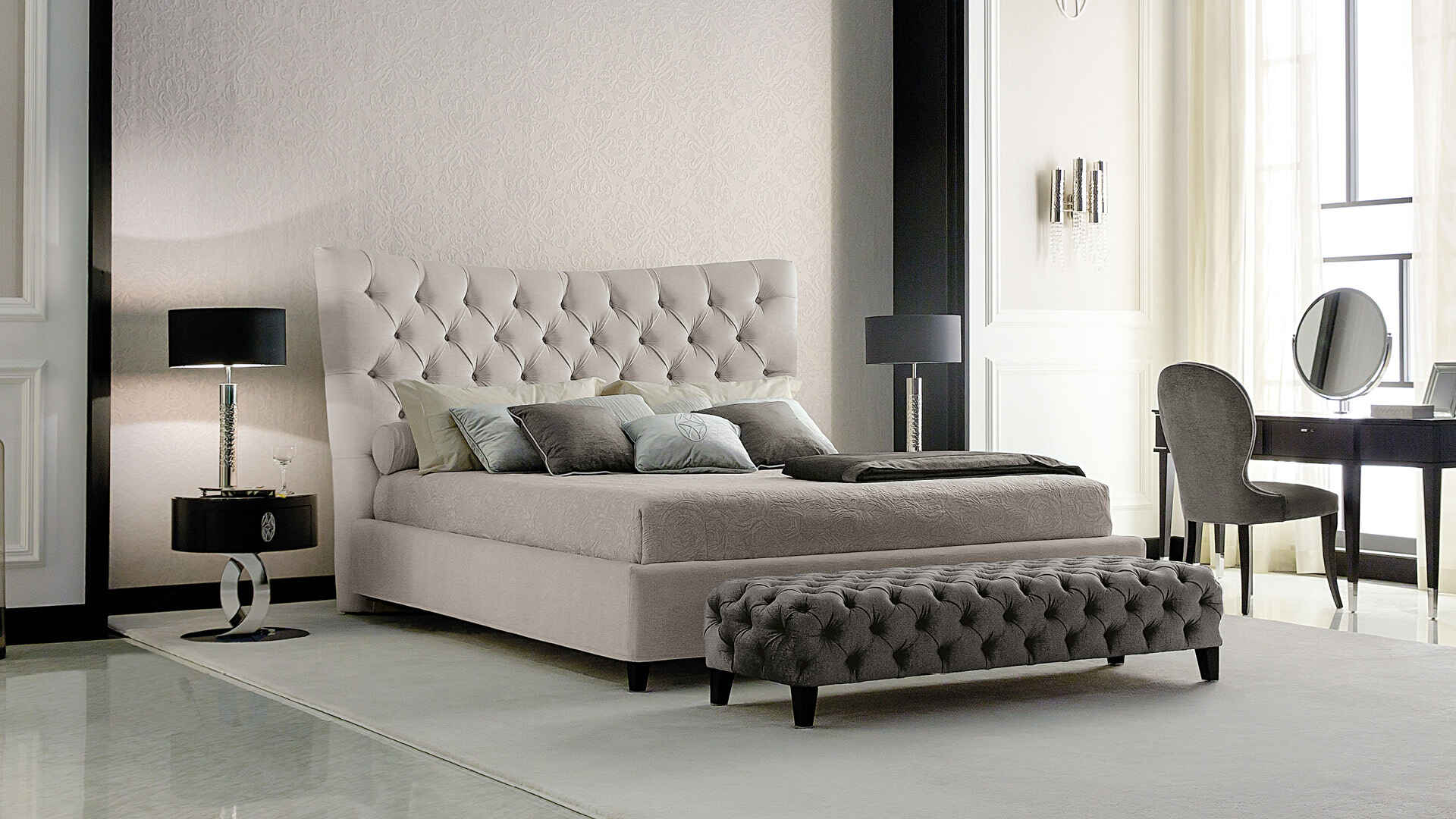 Finally, Berenice's visual appeal is just as striking. With its curving tufted headboard and sinuous shape, this contemporary bed is upholstered in capitonné fabric for a touch of sophisticated and timeless elegance. Just like every other piece by Opera Contemporary, Berenice, too, can be customized according to the customer's requirements and personal taste. 
Get in touch with Opera Contemporary's experts to start conceptualizing the unique look of our contemporary bedroom.