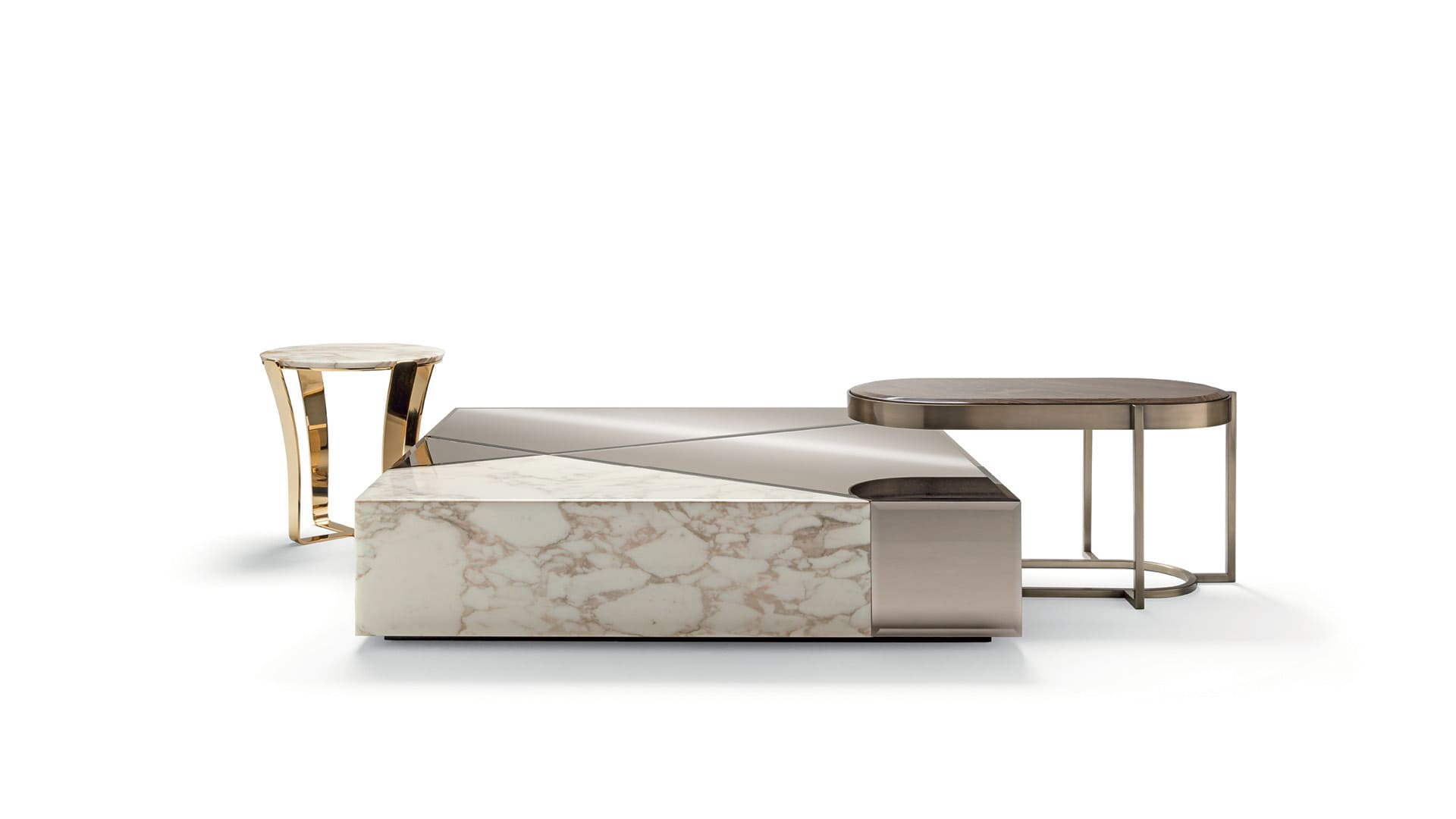 03 Nov

Contemporary coffee tables: our suggestions to best choose the one that fits your living room
Contemporary coffee tables: our suggestions to best choose the one that fits your living room
When it comes to luxury interiors, the choice of every interior design element strongly influences the general mood of the setting. This means that careful attention in the selection of furniture should never be limited to the "main stars" of the room, but also to pieces that are both functional and aesthetically appealing. Just as much as the primary furnishings, they will also become statement pieces that will highlight the prestige, good taste and knowledge of the masters of the house.
In a setting as complex and multifaceted as the contemporary living room, we all know where the main focus is: on sofas, armchairs, accent chairs, media stands. But what about side tables and coffee tables? They are also what it's usually called "essentials", as they provide a valuable surface for various objects while also showcasing aesthetics and quality. 
In fact, the coffee table is a multifunctional and indispensable furniture item for almost every living area: in addition to offering a designated area for beverages, this piece enhances your environment's aesthetic appeal and practicality, which is why it should always be chosen carefully.
Choosing a coffee table for your contemporary living room: a few rules of thumb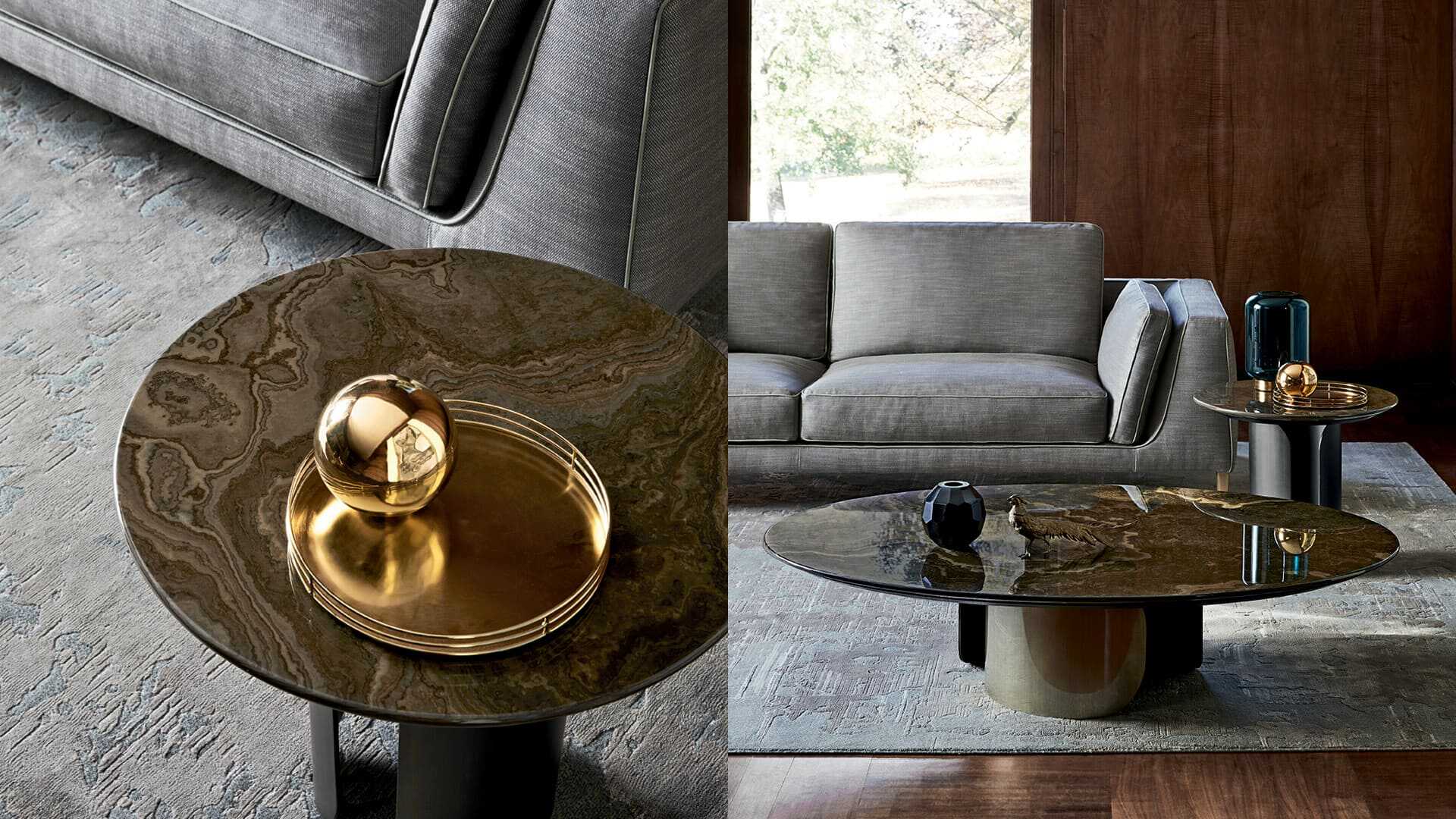 The process of selecting an appropriate coffee table might be perceived as a bit overwhelming due to the multitude of available styles, sizes, and aspects that need to be taken into consideration. Whether you prefer modern minimalistic side tables, solutions of glamorous elegance or items to be included in an eclectic mix, our helpful guide will provide valuable insights to assist you in making well-informed choices that harmonize with your home décor and lifestyle.
There are certainly a few rules of thumb that should always be followed when planning the layout of a living room and the furniture pieces that will be placed inside the space. The choice of side tables and coffee tables – invaluable in all contemporary settings – should never be overlooked, as it involves carefully evaluating several factors. 
Let's take a look at the main ones.
Shape, size and proportion: the first factors in choosing your contemporary coffee table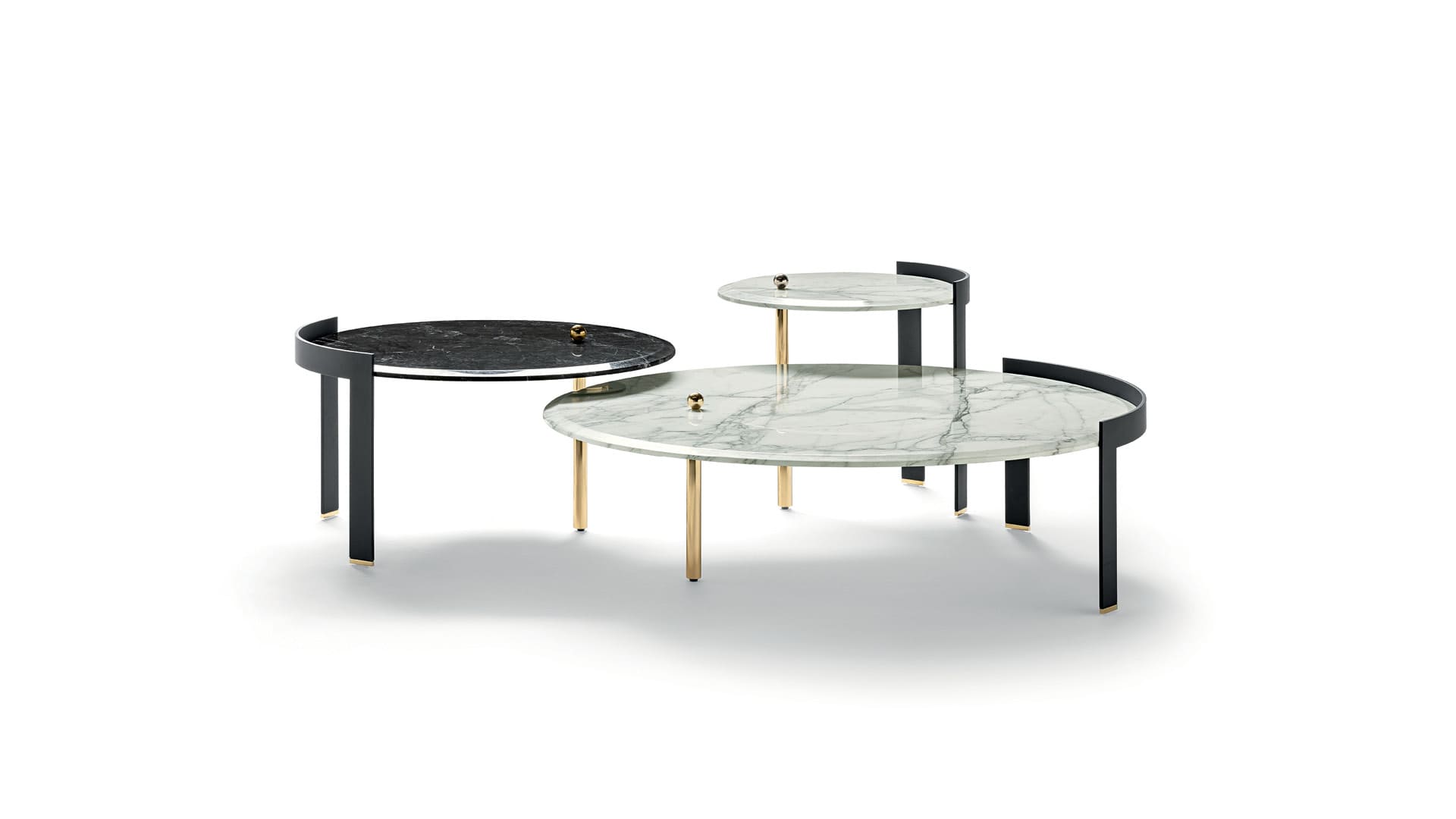 First and foremost, our advice is to ascertain the preferred configuration and shape for the coffee table: a feature that will impact the overall functionality of the entire living room. Generally speaking, round side tables are suitable for smaller rooms or paired with curved sofas, while square or rectangular coffee tables are better suited for bigger spaces or sofas with straight, clean lines.
It's also worth noticing that, within the interior design realm, circles symbolize concepts such as safety, unity, and infinity. Rectangles and squares, on the other hand, represent organization, formality, and stability. Remember that rectangular shapes are generally perceived as more aesthetically pleasant than squares, although the repetitive utilization of square shapes, such as in the arrangement of nested tables, can also be regarded favorably.
Once you have decided the shape or your item, ensure that the dimensions of the coffee table are proportionate to the size of the living room and, more specifically, the seating area. 
Typically, the recommended length for a coffee table is approximately two-thirds of the length of the accompanying sofa. The standard range for the height of side tables is instead within the dimensions of 14 to 16 inches, equivalent to around 36 to 40 centimeters. The goal is to align the height of the sofa cushions, preferably at the same level or slightly lower by an inch or two.
Finally, when selecting a coffee table size for a sectional sofa, we suggest you use the longest piece of the sofa as a reference point, although such recommendations can be modified to suit the unique characteristics and personal preferences of your particular space.
Materials: how many are available for contemporary coffee tables and which one should you pick?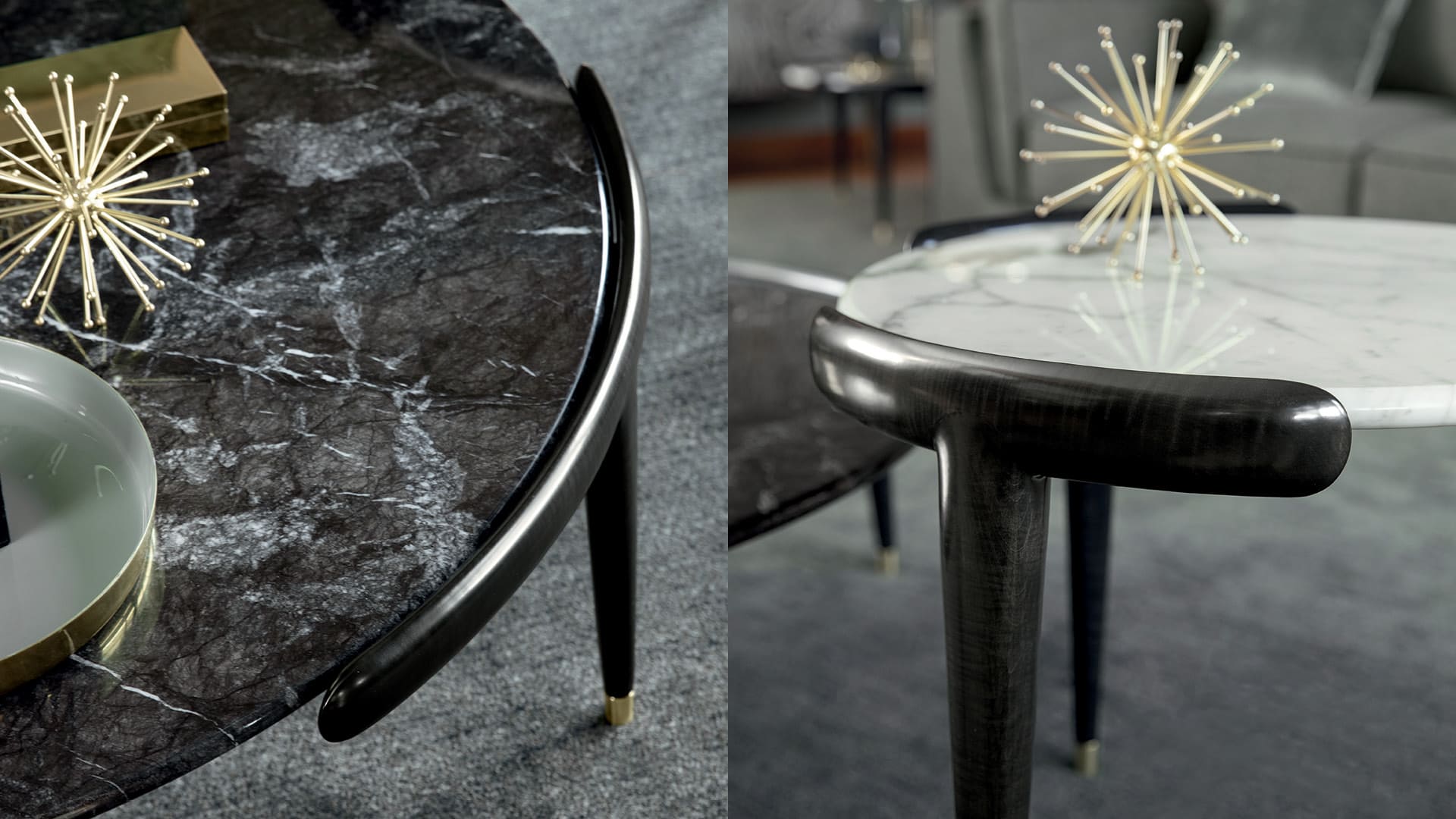 When choosing a coffee table material, it is crucial to consider your lifestyle and personal tastes. Wood, glass, metal, glass and marble are commonly chosen materials, as each possesses distinct visual qualities and long-lasting properties. 
When making a decision, take into account various elements such as durability, maintenance requirements, resilience to wear and tear, and the compatibility of the material with the existing furniture and decor. Next, analyze the object's texture, considering its tactile and visual characteristics. Lastly, contemplate how the chosen material will serve as a backdrop for the ornamental items and harmonize with the general aesthetic of the room and the pre-existing furniture pieces. 
Wooden coffee tables are known for their durability and versatility. In luxury contemporary interiors, darker wood essences are seen as especially aesthetically pleasing, while lighter ones are more suitable for modern and farmhouse-styled living rooms. 
When comparing glass and mirror coffee tables, you will notice that glass coffee tables showcase an inherent elegance and convey a sense of sophistication. This material has a streamlined aesthetic that has the potential to provide an illusion of more space in compact settings, while simultaneously imbuing a sense of opulence to various design schemes. 
As far as metal goes, numerous coffee tables include stainless steel or aluminum bases. This contemporary coffee table material offers a range of metal finishes, such as brushed nickel, gold, brass, and copper, which can enhance the sophistication of any given room.
Finally, let's look at one of the natural materials most commonly seen in contemporary coffee tables, marble. Sophisticated and timeless, this material can easily be combined with metal or wood, creating a distinctive and aesthetically pleasing appearance. Additionally, this piece of furniture exhibits a high level of compatibility with many other furniture pieces, and usually has a spacious, level surface that is ideal for showcasing ornamental objects, such as books, vases, or other decorative accessories.
Opera Contemporary's exclusive coffee tables: an invaluable addition to your luxury living room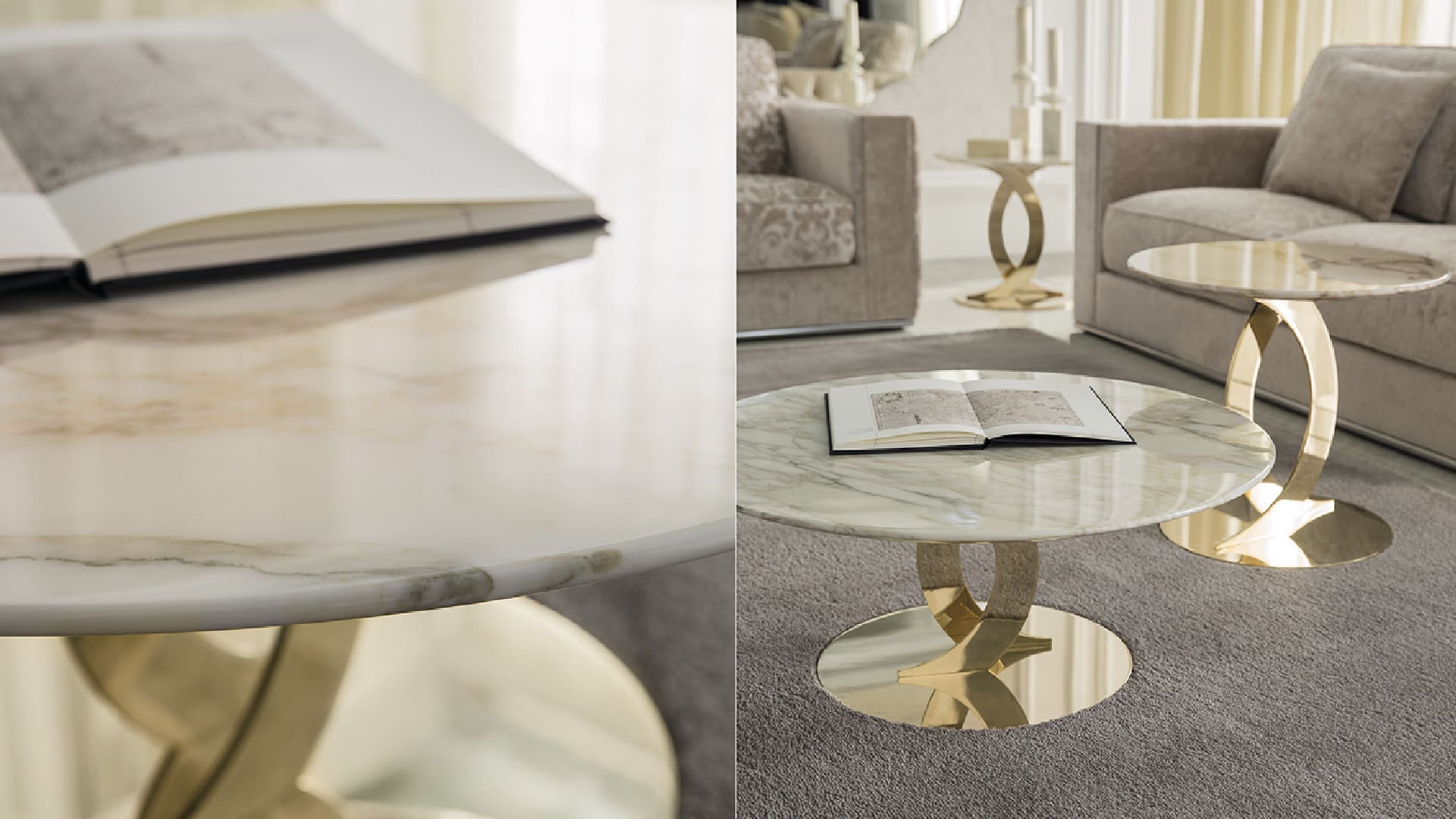 Opera Contemporary provides a variety of small tables to be integrated into luxurious contemporary living rooms. Whether they are placed next to a sumptuous sofa or topped with an elegant tea set, the coffee tables designed by this internationally renowned brand enrich the aesthetics and functionality of each setting: the perfect balance between appearance and performance is embodied in luxury statement pieces that communicate originality, quality, sophistication and sheer beauty. 
The assortment of Opera Contemporary's side tables is notable for its refined aesthetic and the option for several customizations. In addition, the company provides diverse materials to cater to even the most challenging preferences.
Cyrano, for instance, exemplifies a captivating juxtaposition of geometric forms and dynamic amalgamations. The foundational design of this contemporary coffee table incorporates a notable contrast of high-quality materials to enhance the space by highlighting its fundamental characteristics. Gabriel, on the other hand, showcases a vibrant association of textures with the metal base and the exquisite marble top. The cylindrical structure exhibits an aperture on one side, revealing its inside cavity.
And again, Brian is a coffee table featuring three metal legs and a unique and discernible character. The metal frame is integrated with a high-quality marble tabletop with beveled edges. One notable feature is the presence of a middle foot that transcends the confines set by the marble material, assuming a decorative role on the top surface.
Three legs are also the main features of Amos, the contemporary coffee table whose frame is made entirely from high-quality solid frisé maple wood, featuring an oval contour that imparts a sophisticated aesthetic while exhibiting meticulous attention to each element. This side table is offered in three different sizes, allowing it to blend into various settings seamlessly.
Finally, the Raoul series of coffee tables is characterized by an essential and rigorous design thanks to the beveled marble or glass top embedded in the frame. Available in different sizes and two different shapes, round and oval, it is always a striking addition to every living room. 
Discover all Opera Contemporary's side tables for your luxurious living area or get in touch with our expert interior designers to receive consultancy about your timeless contemporary home décor.