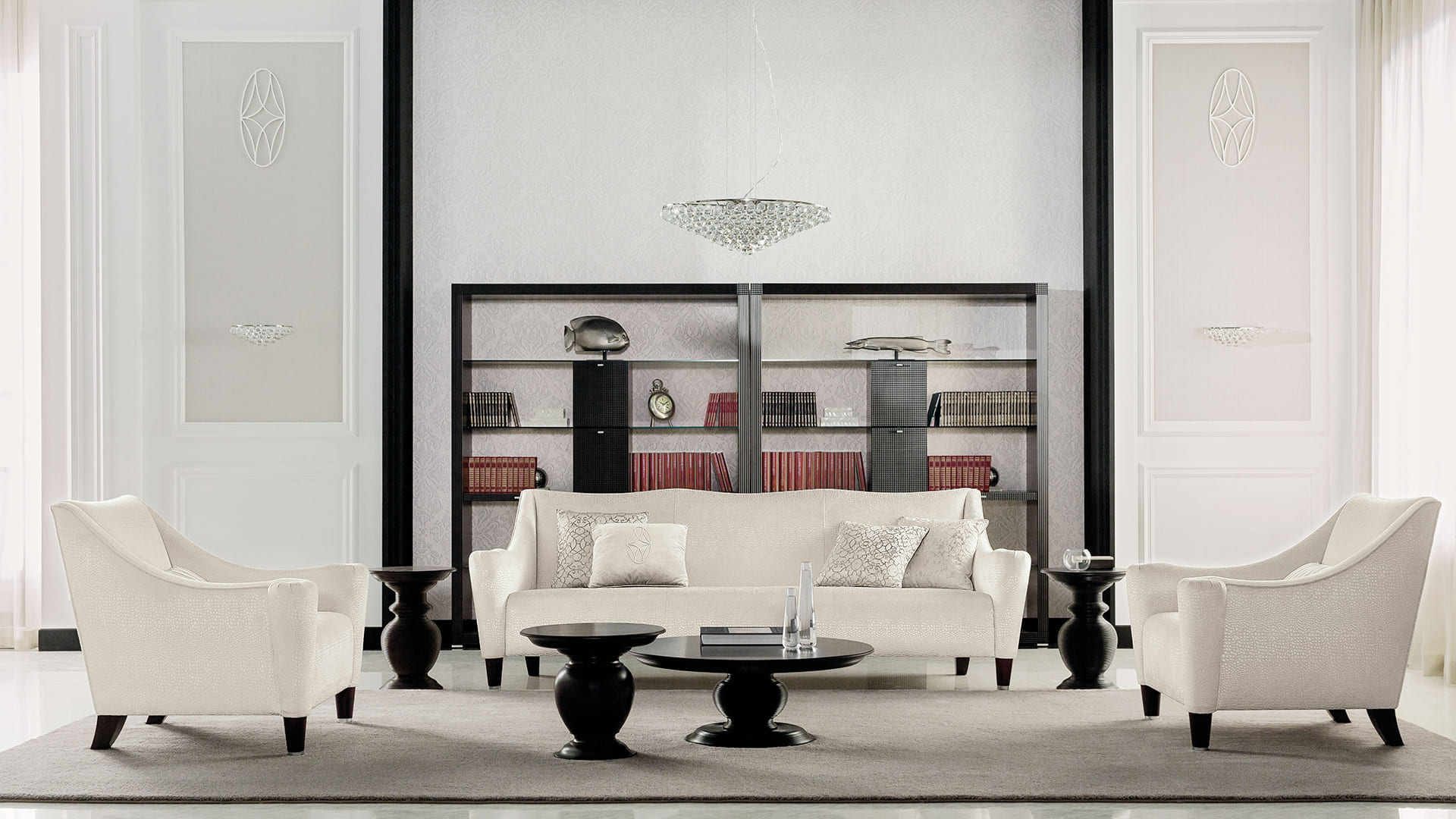 16 Sep

Contemporary furniture to give elegance to your living area
Contemporary furniture to give elegance to your living area
In the last weeks we published a long and comprehensive article about contemporary style, understood as a "pattern" of interior design. We have highlighted its characteristics, the substantial differences with the purely modern style, the most popular materials and color choices-actually providing some important suggestions for creating stylistically impeccable environments.
Instead, in today's in-depth study we intend to focus more specifically on a particular room in the home, namely the living area. In ordinary terms, this is defined as the convivial space that is typically intended for meeting guests, relating to each other, spending time together, and having experiences. "Living" in fact means experiencing, and this term therefore goes to identify the most vibrant area of the home. In Italy, the definition of "living area" is often considered synonymous with the living room, although in some apartments it may form a whole with the dining area.
In terms of design and especially when it comes to contemporary interior design, the living area should always fully represent the predominant style of the house but also express the personality of the people who live it: the distribution of space, the choice of furniture, that of colors and materials are all factors that will therefore help define it.
Contemporary interior design for the living area
Especially in more modern homes and apartments, lofts, and home spaces carved out of industrial settings, the living area is by its very nature the true heartbeat of the home. It is the place where people meet, converse, relax and get together.
Precisely in view of the centrality of that environment, the contemporary interior design of the living area should be designed with absolute care by examining the space down to the smallest detail: from the definition of a single area or its division into several micro-environments to the choice of what kind of furniture to place within it, as far as their size, to design and materials, and finally to the selection of complements and accessories.
The goal is to create an intensely harmonious, hospitable, and welcoming environment that is also highly aesthetically refined. The space should therefore be elegant but not algid, linear but still comfortable, perhaps even structured in a modular way so as to present itself as multifunctional.
So make way for wall units, storage units and shelves, large and enveloping sofas, armchairs or love seats, ottomans, console tables and practical low tables. If the living area is integrated with the dining area, the table will obviously not be missing as well as the chairs, but even in this case it will be possible to range in solutions: extendable or fixed furniture, minimal or more sophisticated chairs will equally find a place in this environment. The materials are also quite versatile: wood, fabrics, leathers, as well as glass, marble, and metal furniture or accessories that create color and material contrasts capable of immediately catching the eye.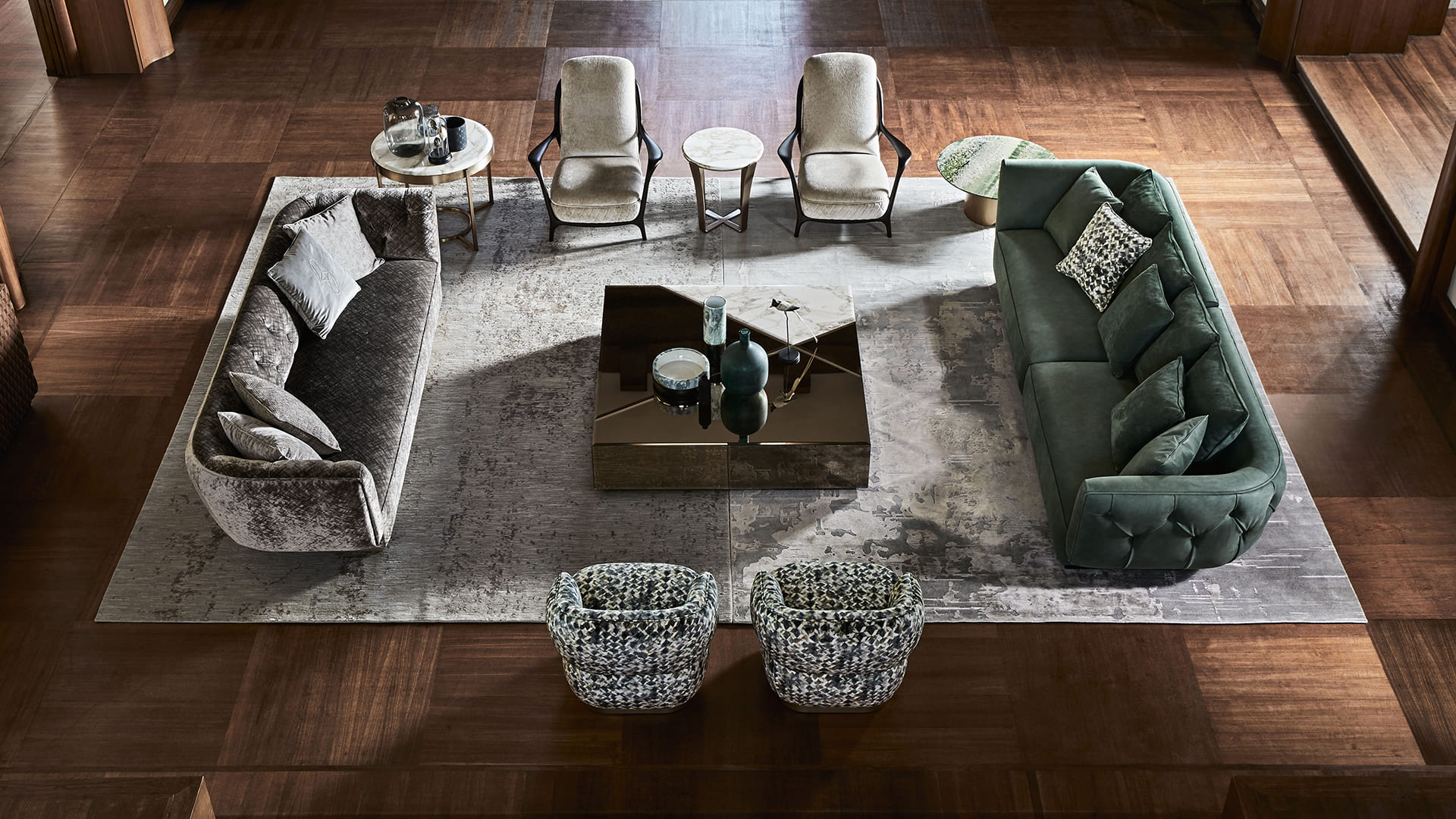 What about the color? Certainly the first discriminant will be the personal taste of those who live in the spaces, but in general the contemporary style prefers essential palettes (without being chromatically stingy): the color plays between black and white are timeless by definition, as are delicate shades of cream, gray and dove grey, although there is no shortage of the use of vibrant and bold shades such as red, purple, blue, green.
As we mentioned earlier, the contemporary interior design trends change and adapt with the needs of the current lifestyle: the limits of this style are therefore necessarily fluid, evanescent, and they have the great advantage of offering maximum room for creativity of those who conceive, design and furnish spaces. This is no little quality: to be able to furnish one's spaces under the banner of aesthetic and functional uniqueness, while keeping within stylistic motifs that are by their nature generous, means being free to express oneself.
That's why contemporary-style living areas include both distinctly modern or even "urban" looking rooms as well as spaces with a somewhat retro flavor, with more pronounced volumes, enriched with vintage elements and details.
Opera Contemporary for your contemporary style living area
Opera Contemporary offers a complete catalog of contemporary-style furniture elements designed with care to transform the living area into an extraordinary environment in terms of both aesthetics and functionality.
Starting with sofas, the brand's proposals are truly comprehensive and meet the needs and tastes of every type of customer or designer: from light and minimal style solutions, as in the case of the model Ferdinand, to those with a more retro flavor – as in the case of the splendid upholstered sofa Sophie, a two-seater with absolutely seductive shapes and extraordinary textural imprinting. It is then impossible not to notice the sinuous lines that characterize Butterfly's backrest: signed as Sophie by Castello Lagravinese Studio, this contemporary-style sofa traces in its design that of a butterfly's wings, making a piece of furniture that is enveloping, soft and further enhanced by precious capitonné work.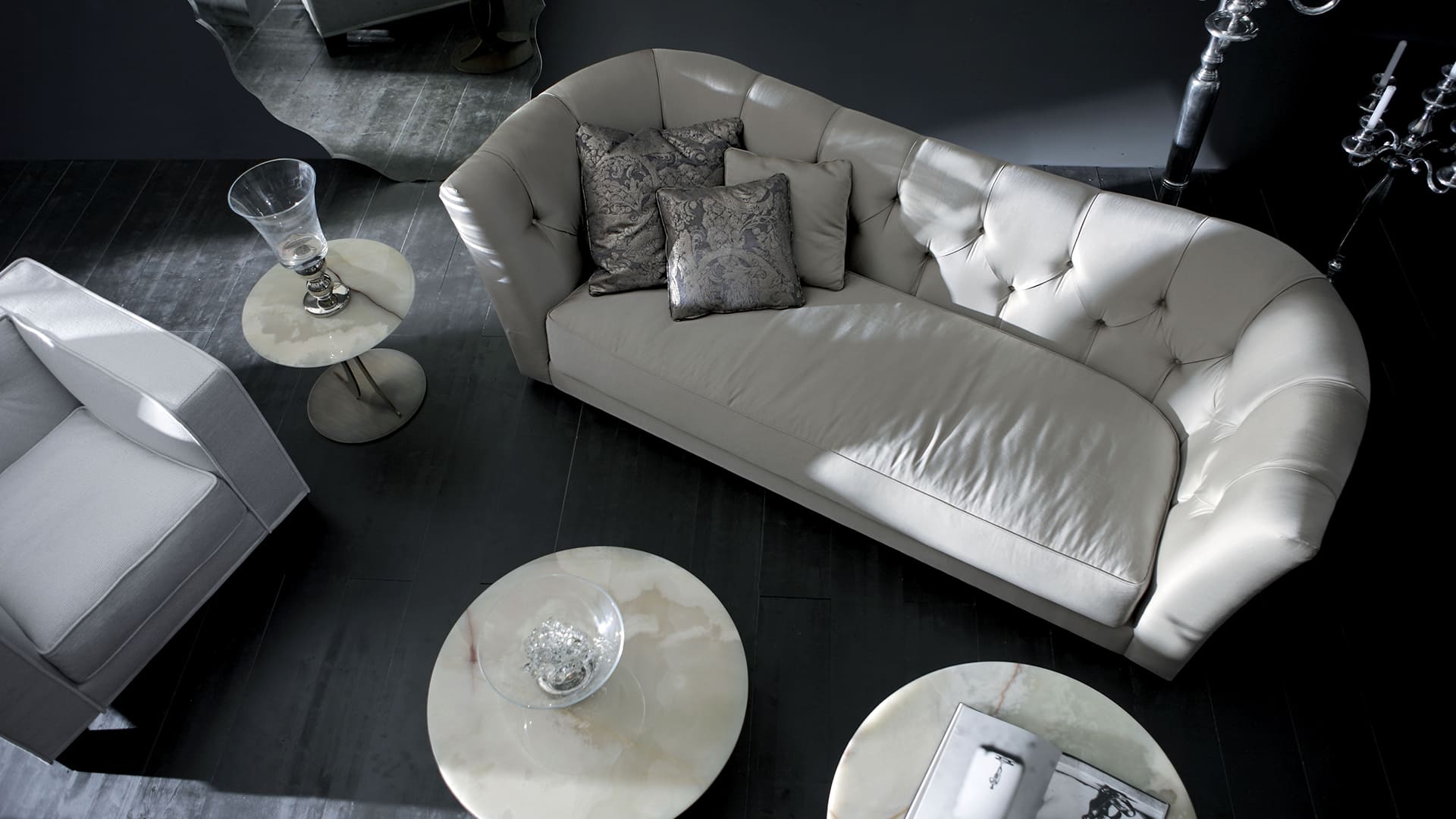 Armchairs are other pieces of furniture that find their place in a contemporary-style living area. Again, Opera Contemporary offers incredibly wide-ranging patterns and solutions, versatile in style, materials, workmanship and volume: from the sumptuous and cozy structures of Carmen, Raimond and Butterfly to the distinctly minimalist line of the lounge chair Aurora, from the visual lightness of Sally and Leslie to the monolithic elegance of Raimonde and Rosalie. The only limit is really creativity.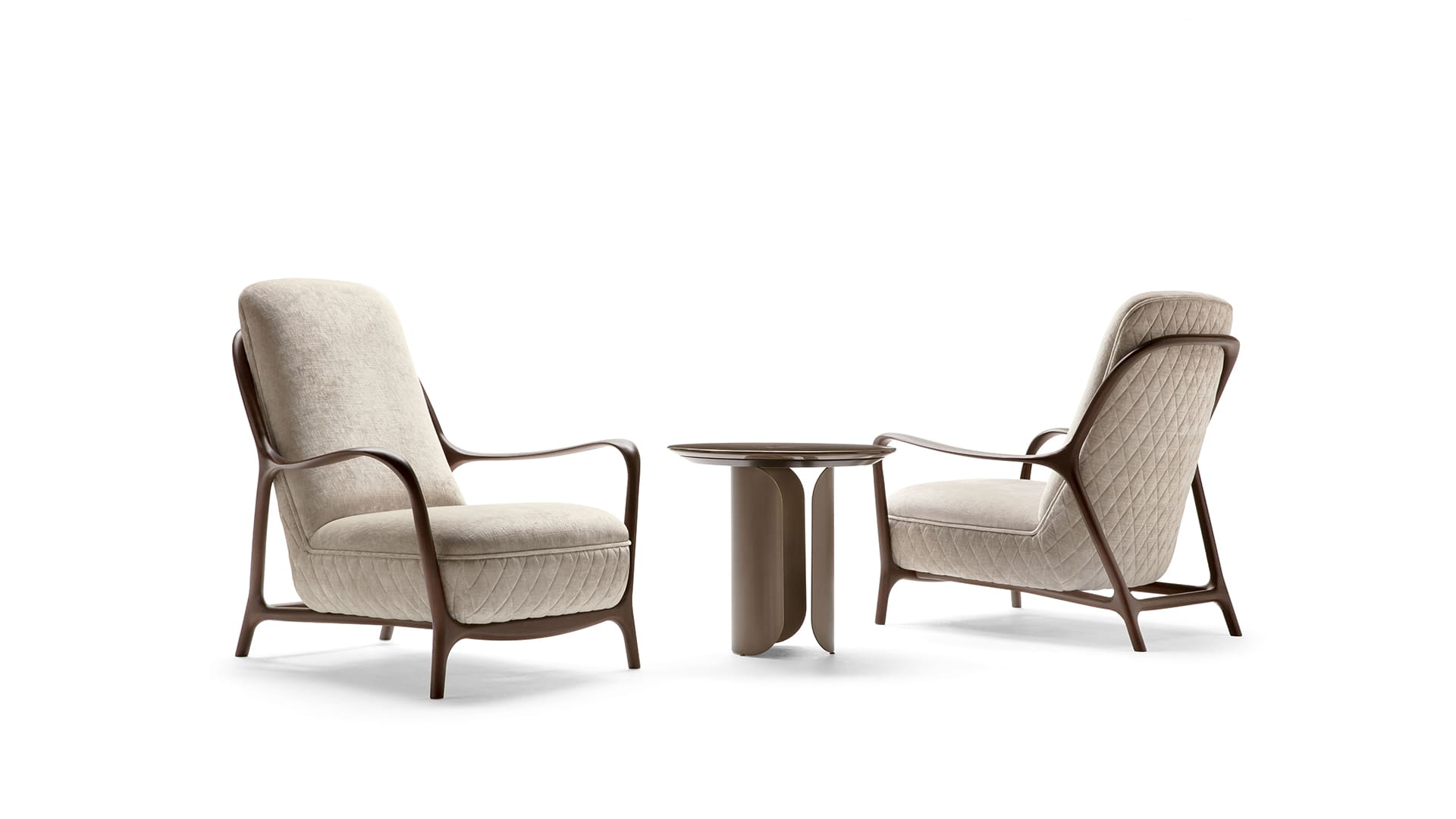 The poufs represent an effective completion to the "relaxation core" which lies at the center of the living area: depending on the space available, function requirements or personal taste, you can opt for models that are small in size but enormously elegant such as Cosmo or for larger and more generous surfaces, as in the case of José.
In furnishing a contemporary-style living area, the TV stand plays a key role as well as the console table. In this regard, Opera Contemporary offers extraordinary solutions with excellent workmanship that not only provide maximum functionality but also enhance the overall environment with their precious aesthetics. Any examples? The TV stand element of the collection New Doris, incredibly sculptural thanks to the asymmetry associated with the gentle profiles, highlighted by the metal legs; or the supple, curvilinear design of Teseo, which gives rooms a sophisticated vintage feel with its perfect mix of aesthetic asymmetry and structural solidity.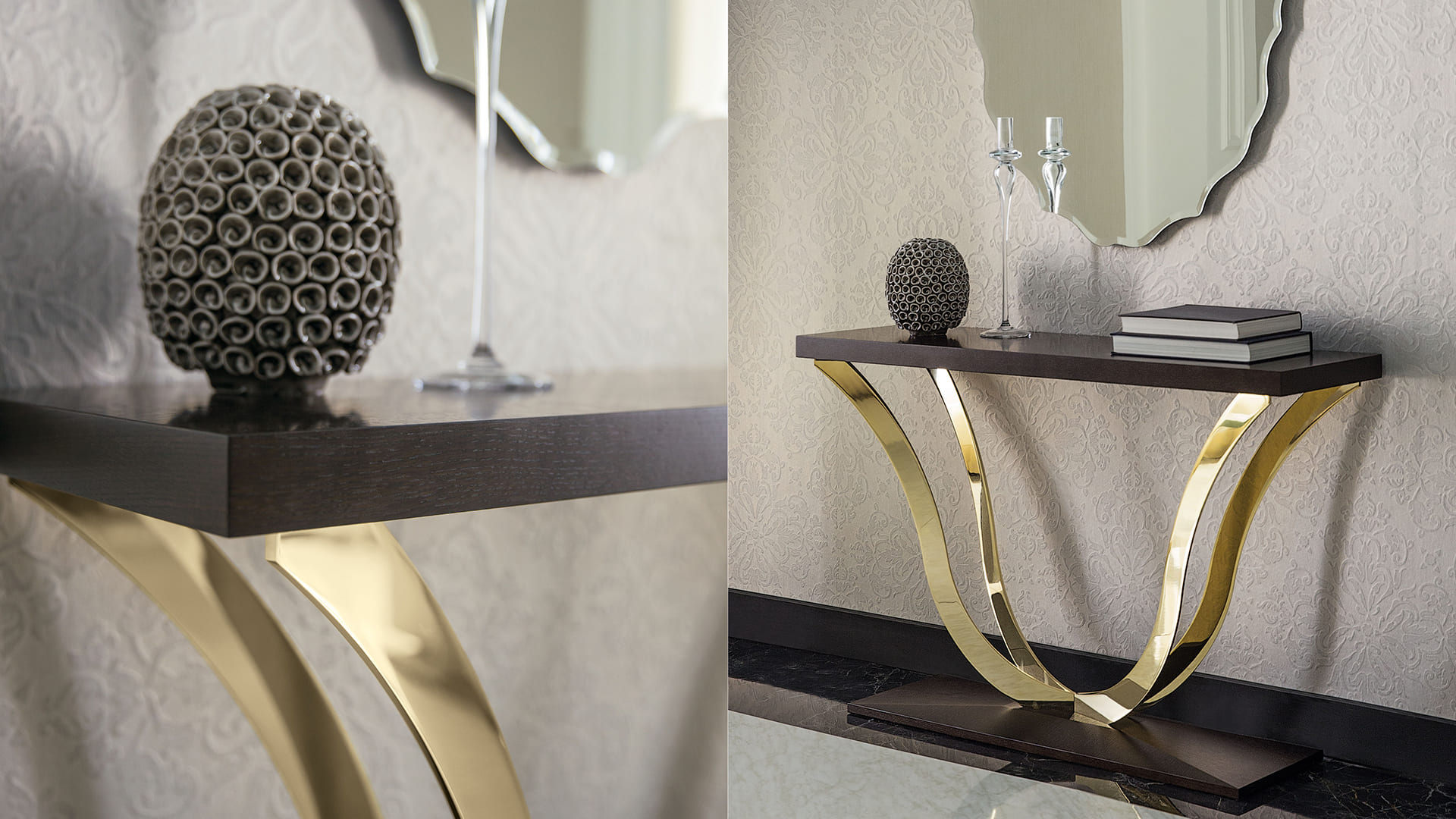 In living room furniture, another focal point is the coffee table. Convenient support for a glass of liquor, a book or simply for the remote control, this piece of furniture serves both practical utility and decorative function, and it is with this philosophy in mind that Opera Contemporary presents its collections. Creativity is again highest, ranging from the spectacular reflective surfaces of Cyrano, whose interplay of lines and geometries is associated with the perfect blend of marble and mirrors, to the refined line of accessories in the collection Brian, which is told with light elegance thanks to its metal frame, marble countertops and beveled edges. Not to mention, of course, Raoul's absolute essentiality-which in the smallest space proves to be the epitome of utmost stylistic precision.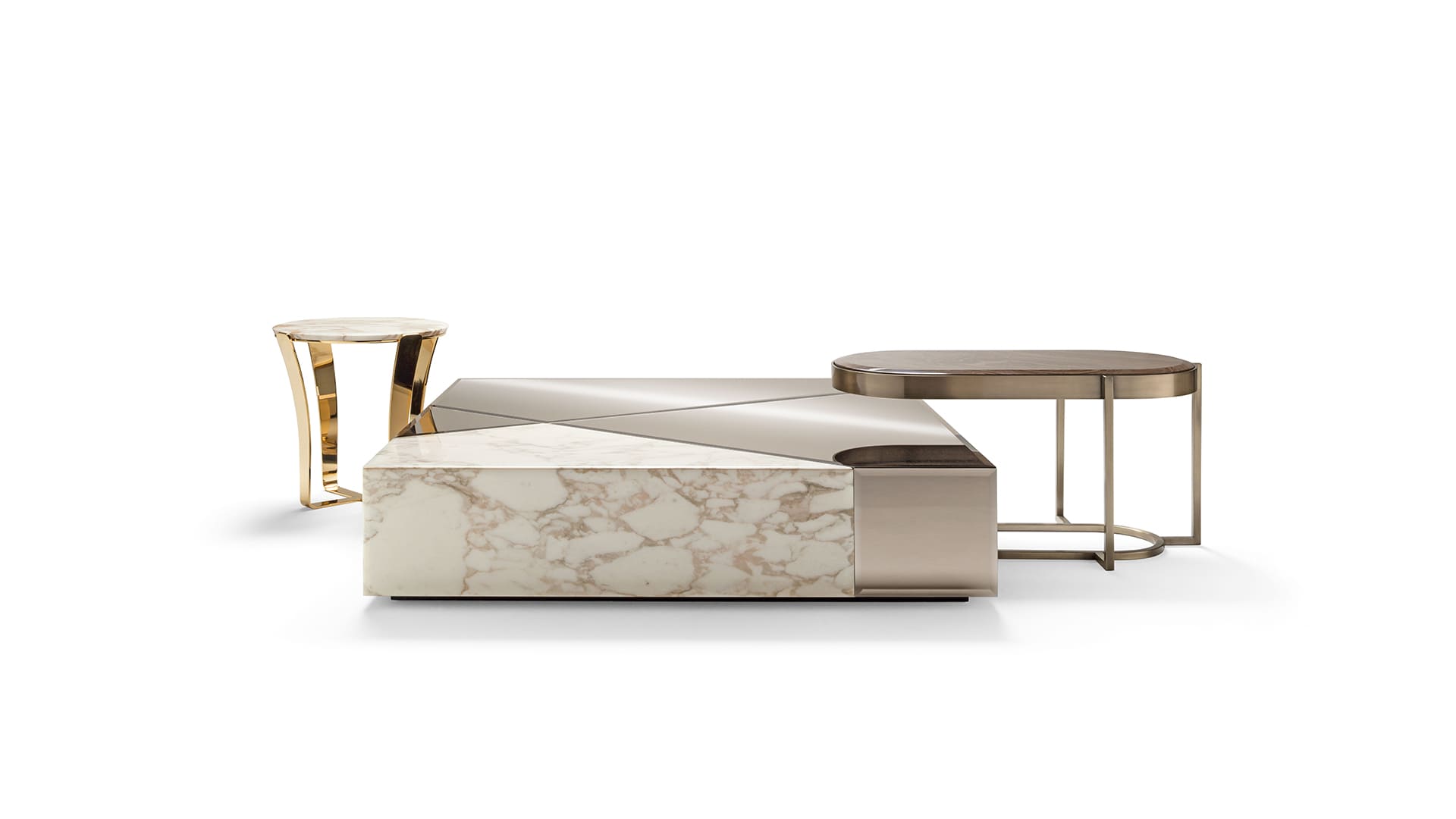 Finally, honorable mention for mirrors: they are not exactly a piece of furniture so much as a complement. They can be integrated into contemporary-style living areas of any size, and are perfect for creating "visual corridors" or plays of light on portions of the room, and are very effective if the room is not dimensionally too large, because they multiply its volumes by offering a broader perception.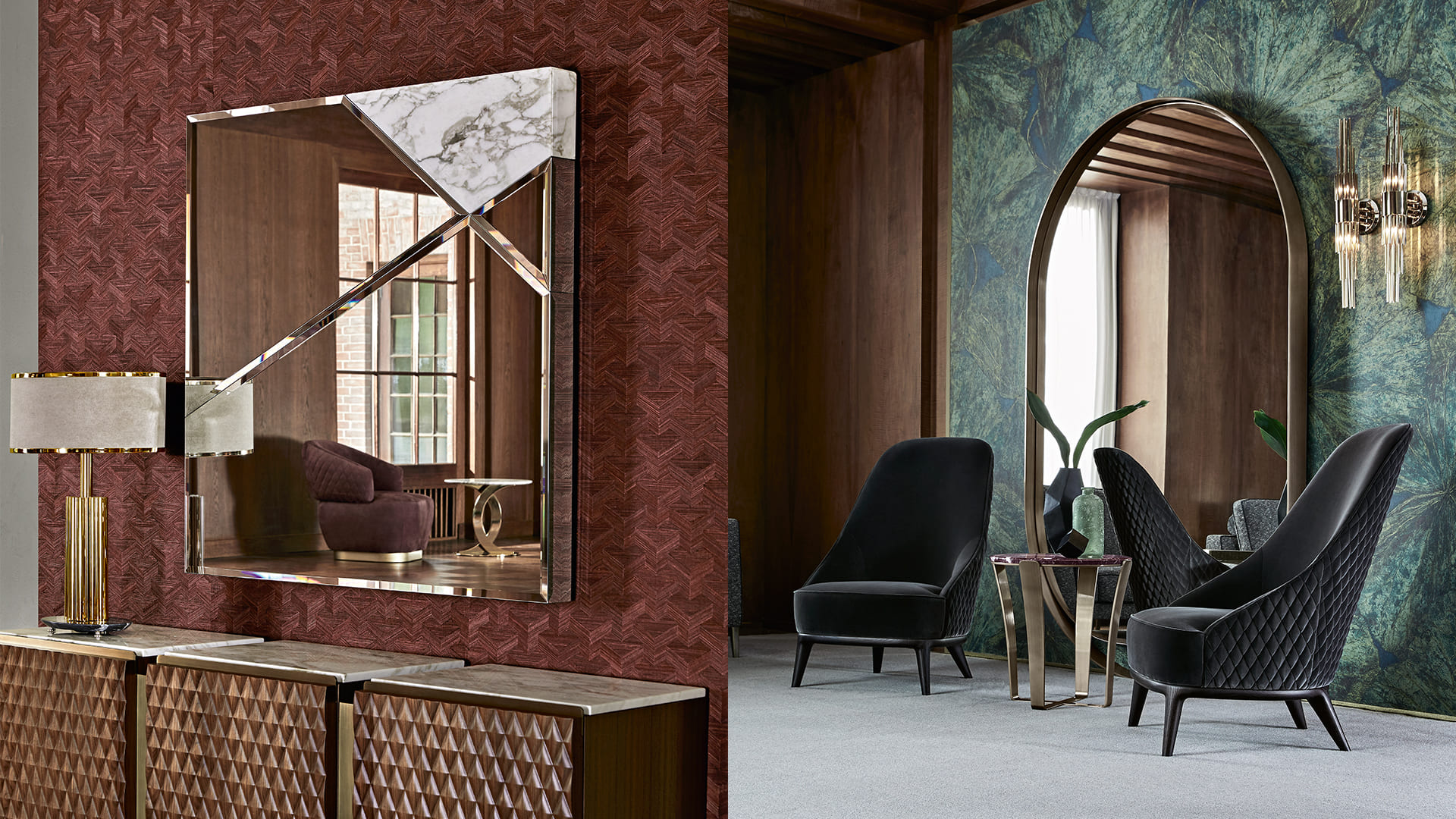 Again, Opera Contemporary offers solutions of splendid design and extraordinary workmanship: from the vintage-flavored classicisms of Lullaby, with its contoured shape that looks like something out of a fairy tale, to the textural and geometric alternations of Esther, for those who love details of essential and refined taste.
Do you wish to furnish your home or have a contemporary style project?